JAM VIII will be held at Casa Paganini, InfoMus Research Centre, Piazza di Santa Maria in Passione, 34 – Genoa (Italy).
Genoa (Italian, Genova) is a historical port city in northern Italy, the capital of the Region of Liguria. Genoa has a long history as a rich and powerful trade centre. The multitude of hidden gems behind cozy alleyways, the excellent cuisine, the renovated old port, the beautiful sights (including one of Europe's biggest aquariums), and its position as the European Capital of Culture in 2004 have made the birthplace of explorer Christopher Columbus an enticing place which is gradually becoming more included in the touristic market. With pastel-coloured terracotta-roofed houses, artistic churches, lovely seaside villas, and also several luxurious boutiques, Genoa is a must see if you want to experience the "quintessential" Italy. For more information please visit http://www.visitgenoa.it
Casa Paganini, InfoMus Research Centre
InfoMus Research centre, founded in 1984, carries out scientific and technological research, development of multimedia systems, multimodal human-computer interfaces, and applications. A main research focus is on the understanding and development of computational models of non-verbal expressive and social behavior. Since 2005, InfoMus has its new premises in the recently restored monumental building of S.Maria delle Grazie La Nuova – Casa Paganini.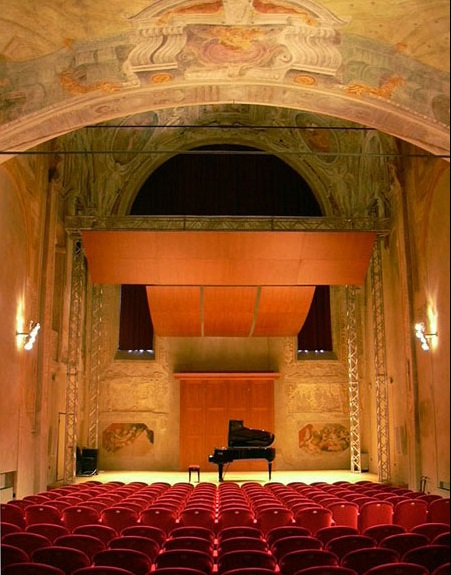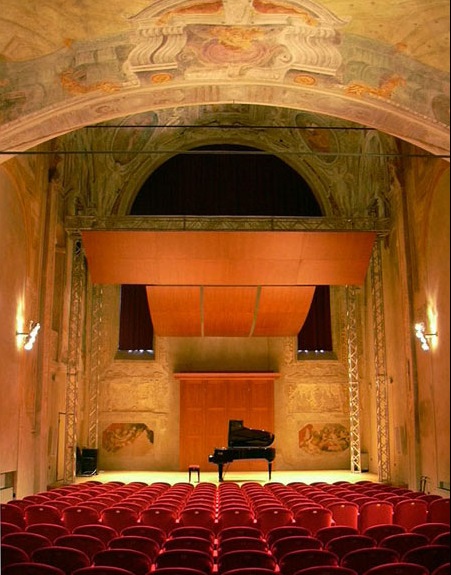 Getting to Genoa:
By air
The Cristoforo Colombo Airport is the fastest way to reach Genoa, as well as the most spectacular, since the runway is almost entirely surrounded by the sea. Landing in Genoa, flying over the promontory of Portofino welcomes you with an unforgettable view of the city!
The airport is located in Genoa's Sestri Ponente neighbourhood, a few kilometres from the city centre, to which it is connected by taxis and the following public transports:
Volabus: it is the shuttle bus service departing from Cristoforo Colombo airport to Genova Brignole and Genova Principe railway stations, crossing the city centre. In 30 minutes you can get to the airport or to the city centre on a coach fully equipped with any comfort. Volabus is a direct daily, comfortable service running 7 days a week, stopping at few pick up points (to airport only pick up, from airport only drop off). Tickets available here: https://www.airport.genova.it/en/transportation-airport/
SP special shuttle bus: Due to the collapse of the "Ponte Morandi", in order to facilitate the mobility of citizens the Municipality of Genoa started an additional special bus service between Genova Principe Piazza station and Genova Sestri Ponente station, with transit, in both directions, to Cristoforo Colombo Airport (Arrivals area, ground floor). The service is carried out from 6.00 a.m. to 8.00 p.m. The service is free.
Train: the nearest railway station is Genova Sestri Ponente Aeroporto (15 mins walk from the airport). This station connects the airport with the two main stations in the city centre (Genova Piazza Principe and Genova Brignole). Tickets available here: https://www.trenitalia.com/tcom-en
By train
Genoa's main railway stations are Genova Piazza Principe – map and Genova Brignole – map. For information on train services and timetables: www.trenitalia.com
Getting to Casa Paganini:
Casa Paganini is located in Piazza di Santa Maria in Passione, 34 – in the heart of the historic centre of Genoa.
The nearest metro stations are Sant'Agostino (4 mins walk – map) and De Ferrari (7 mins walk – map)
From Genova Brignole railway station:
From Genova Piazza Principe railway station:
From Cristoforo Colombo airport

Volabus shuttle to Genova Piazza Principe railway station (30 mins). Then it is possible either to walk (25 mins – map) or to take the metro (direction Brignole, stop at Sant'Agostino)
SP special shuttle bus to Genova Piazza Principe railway station (40 mins). Then it is possible either to walk (25 mins – map) or to take the metro (direction Brignole, stop at Sant'Agostino)
Train from Genova Sestri Ponente Aeroporto (15 mins walk from the airport) to Genova Piazza Principe railway station. Then it is possible either to walk (25 mins – map) or to take the metro (direction Brignole, stop at Sant'Agostino)
Getting around Genoa
Click here for:
–Abstract submission –Conference registration –Scientific program –Scientific committee –Organizing committee –Venue